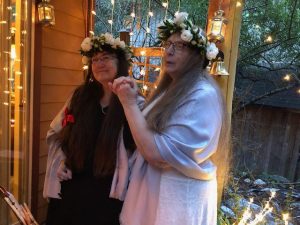 This Christmas Eve, December 24, 2020, my lovely bride Juliet and I were married in a short ceremony at our home in Roberts Creek, BC, Canada.
Why Christmas Eve? Because it is the traditional Danish Christmas celebration, when the family gathers and lights real candles on our Christmas tree every year. Our plan had been to stand beside the lit tree.
Why get have a wedding in a pandemic? We always wanted a small, intimate, family wedding. Originally we considered getting married on our favourite small schooner sailboat. But as the pandemic progressed, we realized that we had to downsize. Our provincial lockdown guidelines allowed just 10 people, and anyone not in your household "bubble" had to stay outside.  Juliet's mum stayed with us for weeks ahead of the wedding to be in our "bubble," along with my daughter and mother. Juliet's son and his fiancee were not able to come from Alberta, nor was my father and his partner from Seattle. Our two best friends in Vancouver could only come up to the Coast for a couple of hours. They, our marriage commissioner,   and our two musician neighbours all had to stay outdoors, masked and socially-distant — one of the musicians in a bike shed next door.
So there was no place like home, in our own back yard. We decorated with candles, lanterns, a bonfire, and Christmas lights – literally lighting up hope in the darkness. And that's why we did it this year. So many people – even complete strangers in stores – told us that just the idea of our wedding this Christmas cheered them up. "What a beautiful affirmative event at the end of this hard, hard year! Thank you!" wrote my cousin Nathan in Zoom chat.
For a tiny pandemic wedding, it was enormous. Over a hundred friends and family watched on Zoom, including Juliet's friends in Ireland (where it was after midnight) and my 105-year-old grandmother in Wyoming. In our chat at the end, I "threw my bouquet" at the screen, to my stepson's fiancee in Calgary.
Ensuring Zoom worked was, for me, by far the scariest part. We had a separate camera and mic for Zoom, run by my daughter. As well as playing two (very cold, metal) flutes, I ran the musicians' mic and amp so our mums inside could hear.  (One hour before the wedding, at peak stress, I grumbled, "Next lifetime, remind me not to be the Tech Director of my own wedding!") It had to work right the first time; even on Zoom, I feel it's important to "be in the moment" for such a sacred occasion as a wedding, so I insisted that we not record it. (Though we saved the chat to read later.)
And the moment the musicians began the processional waltz, Juliet and I fell into step, dancing our way out to the back patio. From then on, all of our moods were filled with joy and gratitude.
Joy and gratitude for marrying each other, for the love of all our family and friends, for our cosy home in our wonderful cohousing community on the beautiful Sunshine Coast, and for all of our health and happiness in the years to come. There is hope on the horizon.
We wish you all a Merry Christmas and a Happy New Year.