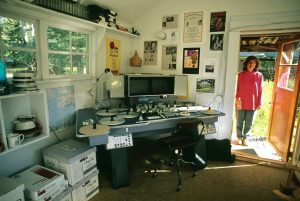 Feminist filmmaker Bonnie Kreps, born in Denmark in 1937, came to the US in 1951 and Canada in 1967 with her family. She got her start in documentary specials at CTV in Toronto, in the late 1960s. Bonnie was an activist and founded Toronto's first radical feminist group. Her first documentary film, "After the Vote: A Report from Down Under," was produced for CTV in 1969.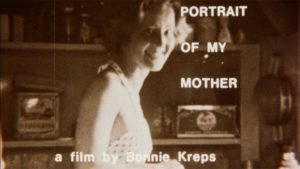 Bonnie then went independent, shooting two films in scenic Jackson Hole, Wyoming. "Portrait of My Mother," 1973, shows Bonnie's mother, Inger Koedt, in her home on the Moose WY ranch of her friend, environmentalist Mardy Murie. Inger chopped firewood, climbed mountains, rafted the Snake River, and cared deeply about the future of humans and nature. The message was that "older women," with no young children to care for, and no career or fame, could still lead active, engaged, and interesting lives. Bonnie was 35; Inger was 57. (Inger lived to be 106.) Folksinger Rita MacNeil composed and performed the score.
Watch the entire film on Youtube, or the trailer below: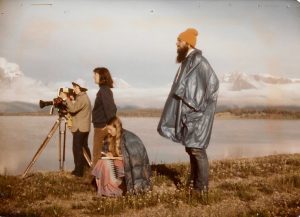 Bonnie's short art film "Mountain Dance," 1975, showcases modern dancers Sandy Hendricks and Kammy Brooks performing in natural beauty at Jackson Lake, Cascade Canyon, and Kelly Warm Springs.
Unavailable for many decades, "Portrait of My Mother" and "Mountain Dance" were digitized in 2020. To purchase a DVD of "Portrait of My Mother" and "Mountain Dance," please send your mailing address and a cheque for $15 (USD or CAD) to Bonnie Kreps, 8144 A Southwood Rd, Halfmoon Bay, Canada. (Or contact Lise about e-transfer.)
Bonnie went on to make three documentaries for the National Film Board of Canada:
After returning to live in Jackson Hole, Bonnie worked for over a decade with her filmmaking partner Charlie Craighead to create their masterpiece: a feature-length biographical documentary, "Arctic Dance: The Mardy Murie Story" (2001). With archival photos and footage, "Arctic Dance" describes Mardy's life from a girl in pioneer Alaska, through her marriage and partnership with naturalist Olaus Murie, to her later decades as a tireless activist for the Arctic National Wildlife Refuge, receiving the Presidential Medal of Freedom from Bill Clinton at the age of 95. Narrated by Harrison Ford, and featuring John Denver singing the song he wrote for Mardy to her, "Arctic Dance" has been shown many times on PBS television; watch the trailer here. DVDs of "Arctic Dance" are available for purchase from the Craighead Institute or from Bob Swerer Productions. Bonnie and Charlie also published a coffee-table book of "Arctic Dance."
In 2008, Bonnie and Charlie made the award-winning "Don't Fence Me In: Celebrating Women and Girls in Wyoming" for Wyoming PBS. This DVD is available for purchase from the Craighead Institute.
Since 2013, Bonnie has lived near her daughter Lise in BC, Canada.